Share
Like this site? Bookmark & share it:
Crochet - Handmade Style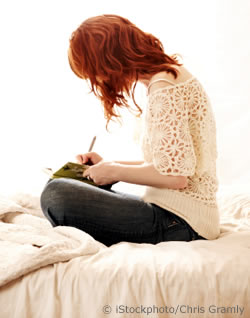 Welcome to CrochetBrain.co.uk. We love modern crochet and want to share that enthusiasm with you.
We'll be keeping you posted on the latest crochet products, new crochet yarns and crochet threads. We'll also be reviewing the latest crochet books and giving you advice on how to overcome common crochet problems such as yarn substitutions.
For a bit of fun, why not take our crocheter's personality test to see what your strengths and weaknesses are and to get ideas of new things to try based on your personality profile.
After all your hard work, keep your crochet in good condition and safe from bugs that eat yarn, see our crochet care section for more details.
Spring & Summer Crochet Fashion Trends
This season, crochet is being mixed with both knitting and fabric. Look out for tops with crochet on the sleeves, shoulders, yoke, hem or front panel.
Crochet shrugs and waistcoats feature in the high street fashions this season.
Broomstick crochet style tops for layering over a camisole are also popular.
Novelty yarns such as eyelash yarns are in evidence at the moment. Don't bother with fancy pattern stitches, they will be obscured by the yarn. Go for slouchy, drop shoulder sweaters patterns or more fitted cropped sweaters.
Latest Crochet Goodies
Many knitters have long been drawn (dare I say obsessed?) by Noro yarn. Now 2 new books will no doubt encourage more crocheters to try Noro yarn.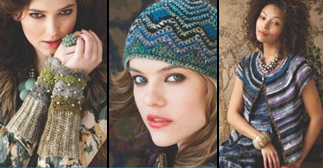 Crochet Noro by Sixth & Spring Books
30 patterns to get you hooked on Noro yarns. Beautiful photography.
This would make a good gift for any one who loves colour and crochet in equal measure.
6 garment patterns, the rest of the patterns are for accessories.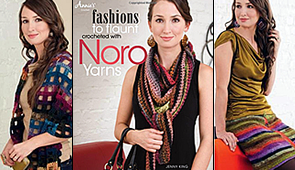 Fashions to Flaunt Crocheted with Noro Yarns by Jenny King
This book contains 17 crochet patterns, 6 garment patterns, the rest of the patterns are for accessories.
If you'd like to have more colour in your crochet but don't feel ready to tackle colourwork, then this could be the answer.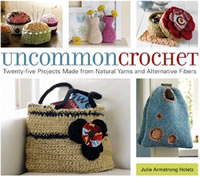 Uncommon Crochet by Julie Armstrong Holetz
Twenty-Five Projects Made from Natural Yarns and Alternative Fibers.
This is a lovely collection of patterns. I especially like the bag patterns including the patchwork bag and the felted Hong Kong bag.
Getting the right yarn for a project is a make or break decision. This book plays to the strengths of different fibers such as sisal and hemp.
Paperback and Kindle editions are available. Click here to find out more and to buy your copy.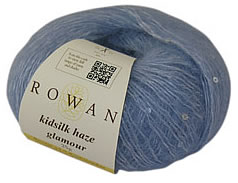 Rowan Kidsilk Haze Glamour
A real little bit of luxury. Super kid mohair and silk sprinkled with sequins.
8 soft, muted shades ideal for little luxuries.
Recommended hook size: 3mm-5mm.
162 metres ( 177 yards) per 25g ball.
Hand wash only.