Crochet - Handmade Style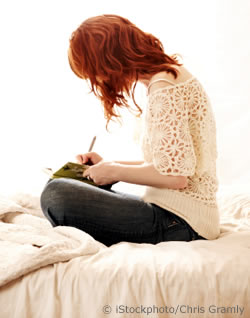 Welcome to CrochetBrain.co.uk. We love modern crochet and want to share that enthusiasm with you.
We'll be keeping you posted on the latest crochet products, new crochet yarns and crochet threads. We'll also be reviewing the latest crochet books and giving you advice on how to overcome common crochet problems such as yarn substitutions.
For a bit of fun, why not take our crocheter's personality test to see what your strengths and weaknesses are and to get ideas of new things to try based on your personality profile.
After all your hard work, keep your crochet in good condition and safe from bugs that eat yarn, see our crochet care section for more details.
Autumn Winter Crochet Fashion Trends
The big trend this season is Hygge (pronounced hoo-ga.) It's a Danish word that conveys the idea of cosiness combined with enjoying simple everyday pleasures.
So, think about cosy crochet hats, big wraps and blanket style shawls. It's all about enjoying winter. Click here for more info on Modern Crocheted Shawls and Wraps
Crochet edgings and collars are popular this season. There are also plenty of open work crochet cardigans in the high street chains.
Crochet seems to be especially popular for children's wear this season. Little crochet patches are a great way to add a touch of crochet to jazz up a shop bought item.
Crochet tops with fringing and decorative edging are on trend. Light, floaty, Irish style crochet tops are a fashionable way to add some romantic elegance to your winter wardrobe.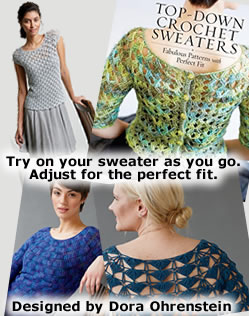 Latest Crochet Goodies
Top Down Crochet
Dora Ohrenstein is an experienced crochet designer. This collection of her patterns are all worked from the top down. The book contains 14 patterns for sweaters, cardigans, tops and tunics that will take you through the seasons.
Top down designs can be tried on as you go. The book guides you through how you can adjust the patterns to get a perfect fit.
Top down construction is hugely popular with knitters. This book is sure to go down well with crocheters eager to apply this flexible approach to crochet.
Click here to find out more and to buy your copy.
KnitPro Crochet Hook Sets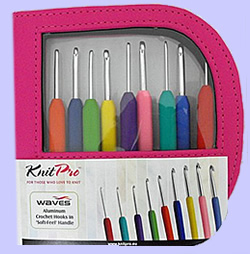 Lovely, ergonomic crochet hooks.
The sets are available in either a pink or lime green case.
9 hooks from 2mm to 6mm.
An investment you will enjoy for years to come.
This crochet hook set would also make a perfect gift for any keen crocheter.
Click here to find out more.