Crochet Tips & Techniques
UK vs US Crochet Terminology
One major headache facing crocheters is the difference between UK and US crochet terminology. Below is a helpful table of translations of UK and US crochet terms.
| | |
| --- | --- |
| UK Terminology | US Terminology |
| Single Crochet | Slip Stitch |
| Double crochet | Single Crochet |
| Half Treble | Half Double Crochet |
| Treble | Double Crochet |
| Double Treble | Triple / Treble Crochet |
| Triple Treble / Treble Treble | Double Treble Crochet |
Tight Crochet Stitches
Overly tight stitches make it harder to work stitches and can prove hard on the hands.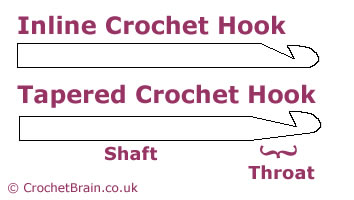 They are often caused by not forming the stitch on the shaft of the crochet hook but on the tapered shank of the hook.
Using an inline crochet hook or a hook with a shorter shank can help. Try to train yourself to push each loop onto the shaft to get it to the correct size before working the next part of the stitch.
Keeping Working Yarn Safe
Keep your working yarn in nearly closed zip lock bag with just the working yarn coming out of it. This helps keep the yarn clean and if you don't have a centre pull ball, it stops it rolling around as you unwind the yarn.
How to Avoid Making Stiff Crochet - the Secret of Drape
Crocheted fabric can be stiff - a property that can be used to great effect in making homeware items and bags. But what if you want to make a soft, draping garment?
The properties of your crochet can be controlled by adjusting your tension / gauge.
If you are following a pattern, check your tension/gauge. If you have more stitches per inch than the pattern calls for your item will not only be smaller but also stiffer than the designer intended. Use whatever hook size you need to get the correct gauge/tension.
You also need to make sure you are using the same yarn weight as recommended in the pattern. The number of wraps per inch - how many strands of yarn can fit side by side in 1 inch - can be a useful way to ensure you have a suitable yarn. A wraps per inch gauge is a useful tool when yarn shopping.
The yarn weight categories are a guide but they don't tell the whole story. A slightly thicker yarn will give a stiffer fabric when crocheted to the same gauge/tension.
Beware of the recommended hook size on yarn labels. Very often the recommended hook size will give a stiffer fabric than you would get from the recommended knitting needle size. To achieve a fabric with good drape you can either use a larger crochet hook or a lighter (thinner) yarn.
If you are taking your inspiration from a knitting pattern you may want to try a lighter yarn weight than the original pattern.
Another factor to consider is the fibre your crochet yarn or crochet thread is made from. Cotton is inelastic whereas wool has a natural elasticity. Fibres such as silk and bamboo are known to give good drape. See our guide to yarn fibres.